From Sir Isaac Newton and gravity to Nikola Tesla and the electric car, great inventors have one thing in common. Their openness to trying new approaches and courage to fail that enables these creators to combine the best of different worlds and generate new schools of thought. Now, it's time bring this model of innovative thinking into the classroom.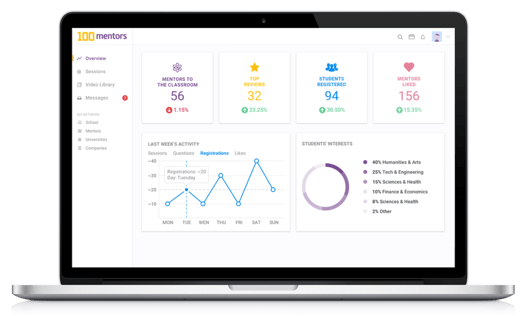 At 100mentors our goal is to provide you with innovative education technology to enable you to build inspiration-driven curriculum that teaches students to dream big and prepares them for the workplace of tomorrow.
Sign up for a free demo and begin to:
Inspire.

Build a curriculum that "teaches to the future," inspiring students to dream big while preparing them for the workplace of tomorrow.



Engage.

Bring the world into your classroom by inviting real-life role models from the to connect with your students, helping them to make more well-informed decisions on the road ahead.

Measure.

Leverage technology to discover and understand student learning patterns and make data-driven teaching decisions … because if you can measure it, you can manage it.
Forward-thinking educators across the world are powering their classrooms with 100mentors. Are you ready to join them?